MS Royal Esadora Cruise. Nile Cruise Sale quote "cruisesale2016/17"
The Orbital Royal Esadora (also known as Royal Esadora/Esadora II) is a modern and fresh 5*Nile cruise boat. The boat was launched in March 2006 and renovated in 2009 with excellent facilities enabling you to enjoy the very best that the Nile has to offer.

There are large public areas and a good range of facilities on board, including the sundeck with bar and swimming pool. The main restaurant serves a buffet with international and local cuisine. The large modern lounge bar with panoramic views allows you to admire the beauty of Egypt and the Nile as you cruise.

7 NIGHT NILE CRUISE

The Orbital Royal Esadora operates on the Monday 7 night Nile Cruise.

FULL BOARD & ALL INCLUSIVE
MONDAY DEPARTURES

FACILITIES

Main restaurant serving buffet food
Air conditioned bar
Lounge with dance floor
Large sun deck with bar and swimming pool
Air conditioned massage room
Boutique, beauty and gift shop
Laundry service
Internet and fax facilities (when docked - intermittent & chargeable)

DINING

The main restaurant serves a buffet for breakfast, lunch and dinner.

Lightweight and informal summer clothes are the norm during the day, with shorts and t-shirts being acceptable. In the evening, informal smart/casual attire is expected.

ROOMS

MS Orbital Royal Esadora has 62 cabins:

35 twins
23 doubles (8 interconnecting)
4 suites

All rooms have:

TV (intermittent signal, may only be available when docked)
Air conditioning
Fridge (not stocked)
Phone
Bathroom with bath and overbath shower
Hairdryer
Safe
Juliet balcony

Suites include all of the above and:

Twin-Centre Holidays

This Nile Cruise is available as part of a twin-centre holiday and you can choose from any of the following great combinations.

Nile Cruise & Luxor
Nile Cruise & El Gouna
Nile Cruise & Sharm El Sheikh
Nile Cruise & Cairo
Nile Cruise & Aswan
4 Night Cruise with 3N Hotel in Aswan or Luxor

Pricing Information
Departures - Weekly every Monday and Wednesday

Prices are per person based on two people sharing a lower deck cabin on full board departing from Gatwick.

Please note that we do not accept children under 8 years of age on Beau Soleil.

Direct Departures are available from Heathrow. Regionals are possible with twin centres


Supplements
•Middle Deck upgrade £40 per person
•Upper Deck upgrade £60 per person
•Single Occupancy £299.


Call 01455613613 or fill out the enquiry form below for the latest special offer price

Quote "cruisesale2016/17" in all enquiries to get offers

5 star Cruise MS Royal EsadoraNile Cruise

includes excursions 23kg pp*

Come and discover the ancient wonders of the Nile, on an awe-inspiring cruise. We're offering you the chance to do just that on an exciting Nile cruise. We have a great selection of Nile cruises to choose from including the 5 star Mayfair or the 5 star Sonesta Star Goddess. You will visit some of the most spectacular ancient sites in the world including the Valley of the Kings and the Temples of Luxor and Karnak.

For all of our Cruise's we have many offers including free deck upgrades, optional excursions parking and airport lounge. Call 01455613613 for an instant quote or fill out the enquiry form and we will get a SPECIAL OFFER quote back to you with in half an hour. The best Nile Cruise prices on the Web

DRINKS PACKAGE NOW AVAILABLE @ £99pp

| | |
| --- | --- |
| MS Royal Esadora | Prices start @ |
| OCT 2016 | £759 |
| NOV 2016 | £759 |
| DEC 2016 | £759 |
| XMAS 2016 19 DEC | £1219 |
| NEW YEAR 2016 26 DEC | £1269 |
| JAN 2017 | £759 |
| FEB 2017 | £759 |
| MAR 2017 | £759 |
| APRIL 2017 | £759 |
| MAY 2017 | £731 |
| JUN 2017 | £731 |
| JUL 2017 | £731 |
| AUG 2017 | £731 |
| SEP 2017 | £749 |
| OCT 2017 | £764 |
| NOV 2017 | £764 |
| DEC 2017 | £769 |

Please note these are not live prices and subject to change due to airlines fluctuating prices

Quote "cruisesale2016" in all enquiries to get offers.

DRINKS PACKAGE NOW AVAILABLE @ £99pp

For All other dates call or complete the form below. For tailor made and twin centre please call or fill out the enquiry form
For a holiday with a difference, the River Nile is hard to beat - it is truly an unforgettable experience. To fully appreciate the beauty of the Nile, there is no better way to trace the passage of Egypt's history than aboard a Nile cruise boat.
Contact Us
Fill out the form below with departure airports, dates of travel, board basis and any hotels or cruises you may have seen, and approx budget and one of our members of staff will be in touch soon!
Quote "cruisesale2016/17" in all enquiries to get offers from Free Deck Upgrades, Free Airport Lounges, Free Airport Parking, Free insurance and many more offers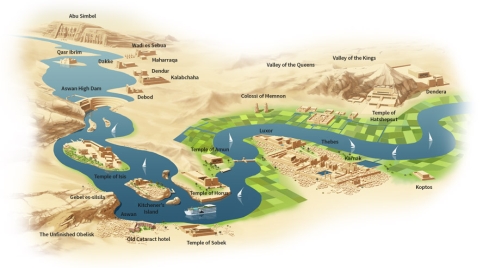 LUXOR - ESNA - KOM OMBO - ASWAN - LUXOR
DAY 1: LUXOR
Transfer from Luxor International Airport to the MS Orbital Royal Esadora. Dinner on board or for late arrivals a light snack will be served. Overnight in Luxor.
DAY 2: LUXOR - ESNA
Breakfast on board, early morning visit to the West Bank including the Colossi of Memnon, Valley of the Kings and the Valley of the Queens, burial sites for many of the most powerful and successful pharaohs and high priests, the Temple of Hatshepsut and Medinet Habu Temple. Lunch on board as the boats sets sail to Esna dinner on board. Overnight in Esna.
DAY 3: ESNA - KOM OMBO - ASWAN
Breakfast on board and morning visit of the Temple of Khnum at Esna. The temple is dedicated to the ram-headed god Khnum, who was patron god of cataracts. Continue the journey south, for a brief stop at Edfu before sailing to Kom Ombo to visit the temple before dinner. This temple, unlike many others in Egypt, was dedicated to two gods; the Southern section is dedicated to Sobek, the crocodile headed man, god of fertility, and the Northern section to the Falcon headed god Horus. There is also a fascinating crocodile museum to visit with many artefacts and mummified crocodiles. Sail to Aswan and overnight in Aswan.
DAY 4: ASWAN
After breakfast, visit the High Dam in Aswan, built in 1960-1971 to provide electricity to the villages along the Nile, the Unfinished Obelisk and theTemple of Isis on Philae Island. Lunch on board and afternoon at leisure with an opportunity to revisit the Temple of Philae for an **optionalsound and light show in the evening.
DAY 5: ASWAN
After breakfast there is the option of a morning at leisure or an early morning **optional visit to Abu Simbel. This impressive temple, built by Rameses II stands on the banks of Lake Nasser. After lunch on board, there is a relaxing boat trip around Elephantine Island to the Botanical Gardens on General Kitchener Island. Dinner and overnight in Aswan.
DAY 6: ASWAN - Edfu
Morning at leisure. Lunch on board and then set sail to Kom Ombo. After a brief stop at Kom Ombo, continue sailing to Edfu and overnight.
DAY 7: LUXOR
Breakfast on board as the boat sails to Esna and then Luxor to arrive in the afternoon. Lunch on board followed by a visit to the 'world's largest greatest open air museum' at Karnak Temple, which covers a large area of land and includes several temples, the largest of them being the Temple of Amun. One last visit to Luxor Temple returning to the boat for dinner and last night on board.
DAY 8: LUXOR
**Optional early morning balloon ride for the adventurous. Breakfast on board followed by check-out and onward transfer to the airport or next destination.
Please note: the order or content of your itinerary may be amended due to lock closures, low water levels or any other unforeseeable circumstances. Due to the increasing number of boats on the Nile, at some docking points boats are moored side by side obstructing the view from cabins. Occasionally, due to operational difficulties a change of vessel can occur. However, the sightseeing itinerary will remain the same.
OPTIONAL EXCURSIONS
A range of optional excursions are available. Please click here for more information.
**Optional excursions are payable in CASH at the time of booking.Orbital Travel act as agents for the activity operator/supplier only. The contract for these excursions, tours and activities is between the client and the local suppliers who offer them. Local suppliers are independent of Orbital Travel Limited.
7 NIGHT NILE CRUISE
CLASSIC 7 NIGHT NILE CRUISE